About SBI Sri Lanka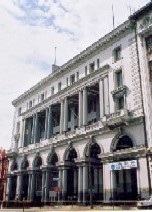 State Bank of India in Sri Lanka is operational since1864. It was earlier a branch of Bank of Hindustan, which was taken over by Bank of Madras in 1867. In 1921, Bank of Madras was merged with the Imperial Bank of India. Subsequently in 1955, Imperial Bank of India became State Bank of India.
The Colombo branch of the bank was opened mainly to handle the business of export of coffee and the Government business. SBI Sri Lanka with its more than 150 years of significant presence in Sri Lanka, is the oldest bank in the country. The head office and main branch are located in a heritage building in the Fort area of Colombo, which is the financial hub of Sri Lanka. The bank is fully equipped with modern technology and with modern communication facilities such as SWIFT etc. Currently SBI Sri Lanka is operating through 5 branches namely Fort & FCBU branches at main building in fort, Colpetty branch, Wellawatta branch and Kandy branch. All the Branches are networked with each other. SBI Sri Lanka is catering to both Corporate and Retail clients and has the product range from all types of deposit accounts, financing working capital, term loans, vehicle loans, housing loans and trade finance.
The Strengths of the Bank
Commanding unsurpassed respect and legacy in the Indian financial market; the Bank is committed to offering you total financial solutions which will create value for money in all your business dealings. While the bank is strongly positioned to structure financial packages that anticipate the changing business environment, its vast network of branches - the world's largest - ensures delivery channels of unmatched reach, both in India and abroad. We are proud of our more than 150 years of useful contribution to the Island nation and you can surely bank on us for all your financial needs.